Another fantastic foundationpair
Een ander superkweekkoppel dat ik niet vergeten mag te vermelden is "De Slimme" x "Het Bruinoogske".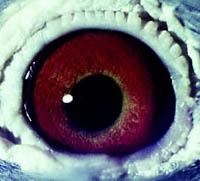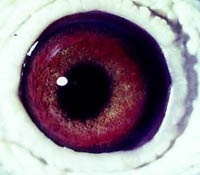 Left the eye of the "Slimme", right the eye of "Het Bruinoogske"
Ik kocht "De Slimme" als jonge duif van Georges Veys juist nadat hij zijn 5e eerste prijs had gewonnen. Hij kwam uit "De Poele" een rechtstreekse zoon van "De Oude Rosten" de halfbroer van de wereldberoemde "Oude Klaren '46" toen die gekoppeld zat aan "Het Meesterke" de moeder van de al even beroemde "Plastron"van de Gebrs. de Baere uit Nokere. Zijn moeder was "Het Prinseske" dochter van "De Bozen" en "Het Oud" dat ook een rechtstreekse dochter van "De Oude Rosten"was.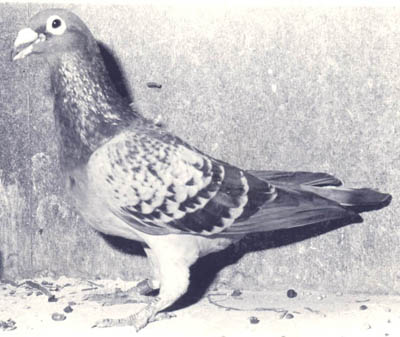 "De Poele '60" foundation breeder of Georges Veys.
Ik kocht "Het Bruinoogske" omdat zij een rechtstreekse dochter was van het superkweekkoppel De Klaren II" x "Het Kleintje" van Valere De Smet-Matthijs. "De Klaren II" was een rechtstreekse zoon van "De Oude Klaren '46" met een dochter van "De Genaaiden". "Het Kleintje" was een dochter van een ander topkoppel van Valere: "De Schonen" x "De Angouleme duivin".
Het koppel "De Slimme" x "Het Bruinoogske" was dus langs alle kanten gekweekt naar "De Oude Klaren '46"!
Tot 1977 was ik helaas met beiden niet zo heel erg succesvol in de kweek. Omdat het zonde was om ze op te ruimen besloot ik ze samen te zetten om ze als voedsterkoppel te gebruiken. Omdat "Het Bruinoogske"een trage legster was kwam daar niets van terecht en mocht ze haar eigen jongen grootbrengen. Dat was dus mijn geluk. Hun eerste jong was NL77-990335 een super vlieger die in 1980 2e Asduif in de Kring was na "De 312" van mijzelf. Een jaar later schonken ze me beide nestbroers NL78-2026420 en NL78-2026421, opnieuw twee supercracks! "De 420" won als tweejaarse drie weken op rij de eerste prijs in de Kring wat nadien nooit meer is nagedaan. In 1981 wint Van Oers uit Roosendaal met een kleinkind van "De 420" de eerste Nationaal Orleans tegen 150.000 duiven!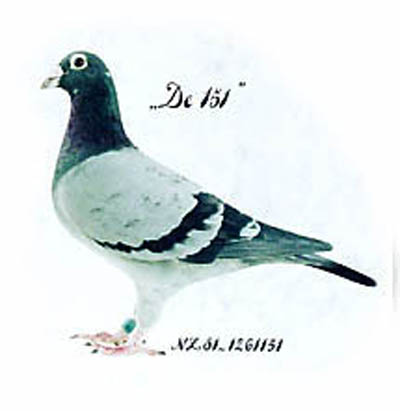 "De 151" foundation breeder of Steven van Breemen.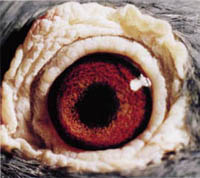 The eye of "De 151".
Lateron "De 420" was sold to Japan too. This is the bloodline of "De 151", the father of the 5th National Ace Young 1987: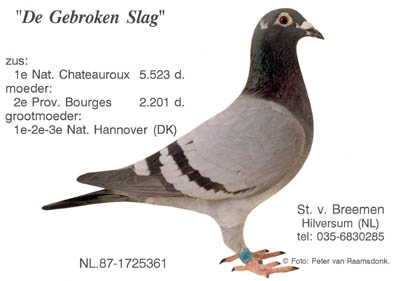 Resultaten van NL 87:1725217 (volle zus van "De Gebroken Slag"):
Reims Strombeek St. Ghislain Peronne St. Ghislain Duffel 350 km 160 km 220 km 300 km 220 km 135 km 3302d 1818d 2728d 1637d 1760d 1990d 1e 2e 3e 5e 36e 48e 5e Nationale Asduif 1987.
and the grandfather of the 1st National winner of the British Isles at the loft of Matthew Rakes of Bristol through their first son "De 335". "De 151" became also the father of "Het Asduifje" (as a youngster 1st Ace pigeon in great region and winning totally 5 firsts at the lofts of Ton van den Brink). Her son "De Kleine Autowinnaar" (also winning 5 firsts) was the fastest in the 1988 provincial Autorace of 13.597 birds!!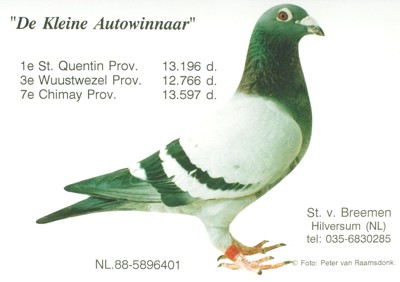 Resulta\sof NL 88-5896401 "De Kleine Autowinnaar":
St. Quentin Chimay St. Quentin Wuustwezel Wuustwezel Chimay St. Ghislain Soignies Minderhout Pont St Max 300 km 275 km 300 km 100 km 100 km 275 km 220 km 200 km 100 km 375 kms 13.196d 1.760d 1.556d 1.586d 12.766d 13.597d 2.000d 1.875d 2.614d 921d 1e 1e 1e 1e 3e 7e 9e 18e 28e 30e
His son "De Kleine Etampes" wins as a yearling 1st on the regional Etampes race. His son "Magic Mealy" wins three times under the top ten in a national dayrace and was in 1994 the 3rd National Ace Dayraces. His daughter wins 1th regional St. Ghislain and his granddaughter is in 1997 8th National Ace Overall bred by Willem de Bruijn of Reeuwijk and raced by Herman Roos of Bodegraven. You see it goes on and on and on.....

Resultaten van NL 77-990335:
Strombeek Compiegne St. Ghislain Duffel Strombeek St. Ghislain Strombeek St. Quentin St. Ghislain Compiegne St. Quentin St. Ghislain 160 km 360 km 220 km 135 km 160 km 220 km 160 km 300 km 220 km 360 km 300 km 220 km 3454d 1442d 2234d 4020d 3610d 4718d 4410d 6464d 6550d 1656d 1467d 6726d 6e 6e 8e 38e 49e 50e 56e 66e 69e 72e 87e 90e
One time I mated "Het Bruinoogske" together with "De Oude Kapoen '67". Their son "De Witpen Kapoen" went to Prof. Alfons Anker in Hungary as a gift. In the International race to remember the 10th Anniversary of his death we find this cock in the pedigree of the overall Ace bird, that ends in 4 races 3 times in the first 5 prizes!! The best bird in the Swiss Olympiad '97 belonged to a hungarian fancier. Also in his pedigree we find "De Witpen Kapoen". This bird was lateron sold to the famous dutch fancier Hans Eyerkamp of Zutphen, who became in 1997 great regional Dayrace Champion with pure birds bought from my loft.....